Raine Clarke-Wills brings attention to worldwide FMG Cruelty for 2017 Chelsea Flower Show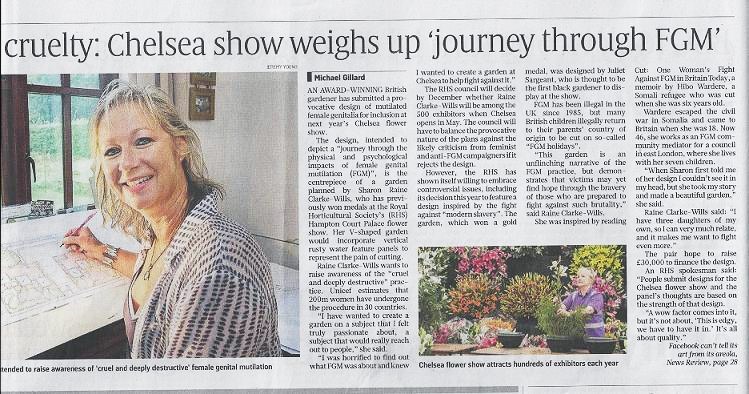 Raine Garden Design's, Raine Clarke-Wills has submitted a provocative garden design highlighting the cruelty of mutilated female genitalia for inclusion at next year's Chelsea flower show.

The story has created such a level of interest that Raine was recently featured in an issue of the Sunday Times where she was interviewed and was able to express her reasons and motivations behind the design idea.

An excerpt from the Sunday Times article is shown below. To read the full story please visit the article page on the Sunday Times website.
Excerpt from the Sunday Times:
The design, intended to depict a "journey through the physical and psychological impacts of female genital mutilation (FGM)", is the centrepiece of a garden planned by Sharon Raine Clarke-Wills, who has previously won medals at the Royal Horticultural Society's (RHS) Hampton Court Palace flower show.
Raine Clarke-Wills wants to raise awareness of the "cruel and deeply destructive" practice. Unicef estimates that 200m women have undergone the procedure in 30 countries. "I have wanted to create a garden on a subject that I felt truly passionate about, a subject…" Read more…