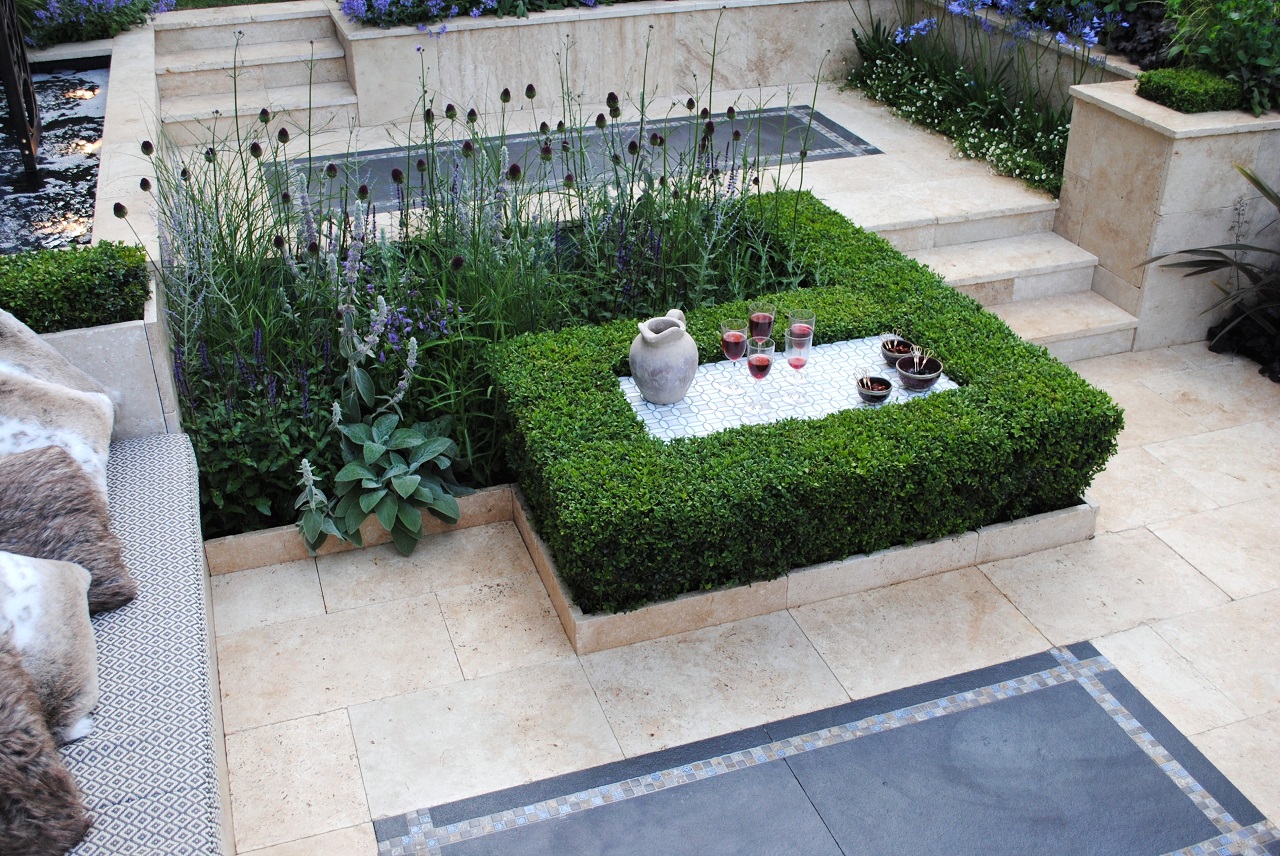 A privileged exhibitor and five times award winner at the Hampton Court Palace Flower Show
AWARDS
For five successive years Raine Garden Design has been invited to exhibit themed gardens at the RHS's celebrated Hampton Court Palace Flower Show, and for five successive years the company has gained a major award.
The judges include some of the gardening world's most respected commentators and practitioners. We prize the reputation we've earned. When we undertake your design commission, we promise to create an award-winning garden. Just for you.
Our Silver-gilt award-winning 2013 RHS Hampton Court Palace Flower Show entry "Layers and Links" was generously sponsored by Sirius Facilities.
Award Winning Garden Designs Surrey
Read more about the Award winning gardens designed by Raine Garden Design. Follow the links to view articles which have appeared in the Telegraph, Let's Go Gardening and City Planter…
RHS Hampton Court Palace flower show 2009: – Silver:
'The Dark Side of Beauty'
A charming, cottage style garden recreating an apothecaries work place, demonstrating the importance of poisonous plants, their medicinal values and toxicology.
RHS Hampton Court Palace flower show 2010: – Bronze:
'Snow White's Slumber'
A garden designed to convey the dreamy fairytale scene within a contemporary style. Snow White's casket suspended above cascading water, made a dramatic focal point.
Read More…
RHS Hampton Court Palace flower show 2011 – Silver Gilt :
'The Potential Feast'
A small space designed for al fresco dining in an edible garden, crammed full of delicious produce. Vertical wall planters packed with herbs, make practical use of limited space.
Read More…
RHS Hampton Court Palace flower show 2012 – Silver Gilt :
'The Essential Indulgence'
A small garden, designed in an opulent, contemporary style.  A space created for pure pleasure, with an emphasis on luxury.
Read More…
RHS Hampton Court Palace flower show 2013 – Silver Gilt :
'Layers and Links'
A contemporary, small, secluded garden, linked over various levels.  A secluded and sociable space, with a relaxed seating area and decorative water feature.
Read More…